Wolfenstein II The New Colossus Season Pass
---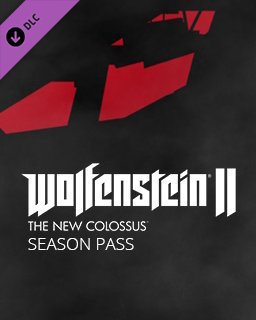 Vše za 29Kč
více
Dárek ke každému
nákupu - sleva až 80%
---
Steam
Produkt je určen pro platformu Steam
Skladem - Doručení ihned
Dodáme ihned po přijetí platby.
Anglická lokalizace
Produkt je dostupný v anglické lokalizaci, neobsahuje češtinu.
Digitální produkt
Produkt je doručen elektronicky, nejedná se o krabicovou verzi.
Sleva 15 %
U tohoto produktu ušetříte až 15 % oproti běžné ceně.
6 benefit bodů
Pomocí benefit bodů získáte slevu na další nákupy
---
Mise na osvobození Ameriky od okupace právě začala. Pokračuj v boji díky Season Pass Wolfenstein® II: Kroniky svobody, obsahující všechny tři doplňky. Staň se silným americkým hrdinou: Josephem Stallionem, Jessicou Valiant a Geraldem Wilkinsem! Navštiv dosud nevídané americké lokace deformované nepřítelem! Využij svoji zbraň a schopnosti, aby sis to mohl rozdat s okupantem! Pouze ty můžeš přemoci nebezpečí v "Kronikách svobody"!
"Kroniky svobody" poskytují přístup ke třem paketům DLC:
Adventura pistolníka Joea – vtěl se do postavy Josepha Stalliona, bývalého profesionálního rozehrávače, abys rozdrtil nepřátele od rozvalin Chicaga po nekonečný vesmír!
Deníky vražedné agentky – jako bývalá agentka OSS a vražedkyně Jessica Valiant infiltruj bunkry v Kalifornii a demaskuj Operaci San Andreas!
Neuvěřitelné hrdinské činy kapitána Wilkinsona – vtěl se do postavy hrdiny americké armády kapitána Geralda Wilkinsona a vydej se na Aljašku, abys zabránil Operaci Černé Slunce!
Pro aktivaci je nutné vlastnit základní hru Wolfenstein II The New Colossus v platformě Steam
---

Sdílejte na facebooku a získejte 4 benefit bodů.
Podobné produkty
---