---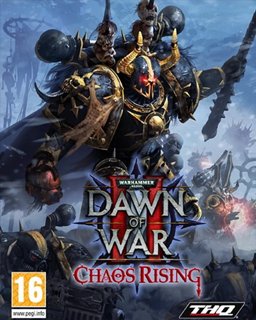 Vše za 29Kč
více
Dárek ke každému
nákupu - sleva až 80%
---
Steam
Produkt je určen pro platformu Steam
Skladem - Doručení ihned
Dodáme ihned po přijetí platby.
Anglická lokalizace
Produkt je dostupný v anglické lokalizaci, neobsahuje češtinu.
Digitální produkt
Produkt je doručen elektronicky, nejedná se o krabicovou verzi.
Sleva 70 %
U tohoto produktu ušetříte až 70 % oproti běžné ceně.
2 benefit body
Pomocí benefit bodů získáte slevu na další nákupy
---
Vaši Blood Ravens zachránili sektor, ale dokážou zachránit taky sami sebe?
V pokračování oceňované RTS Dawn of War II od THQ Inc. a Relic Entertainment se vrátíte do subsektoru Aurelia, kde se z Warpu vynořila dlouho ztracená ledová planeta. Přináší s sebou nová tajemství k odhalení a nepřátele, kterým se musíte postavit.
V Dawn of War II: Chaos Rising se ujmete velení Blood Ravens a budete bránit sektor před Chaos Space Marines z Black Legion. Zbavte se toho chaosáckého smetí a udržte kapitulu pohromadě i proti zrádným silám pracujícím na zničení Blood Ravens zevnitř.
Jedná se o samostatně hratelný datadisk. Není vyžadována základní hra Warhammer 40,000: Dawn of War II v platformě Steam.
---

Sdílejte na facebooku a získejte 4 benefit bodů.
Podobné produkty
---