---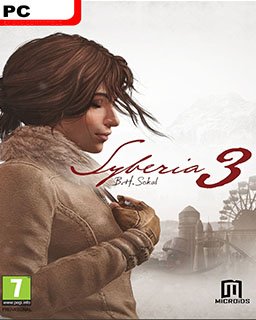 Vše za 29Kč
více
Dárek ke každému
nákupu - sleva až 80%
---
Steam
Produkt je určen pro platformu Steam
Skladem - Doručení ihned
Dodáme ihned po přijetí platby.
Anglická lokalizace
Produkt je dostupný v anglické lokalizaci, neobsahuje češtinu.
Digitální produkt
Produkt je doručen elektronicky, nejedná se o krabicovou verzi.
Sleva 58 %
U tohoto produktu ušetříte až 58 % oproti běžné ceně.
5 benefit bodů
Pomocí benefit bodů získáte slevu na další nákupy
---
Představivost Benoita Sokala, autora původní hry Syberia se opět roztáčí na plné obrátky a přináší třetí část této oblíbené adventurní série, jejíž předchozí díl vyšel před těžko uvěřitelnými dvanácti lety. Poté, co hlavní hrdinka Kate opustila ostrov, umírá na břehu řeky nacházející se u kmene Youkole - kočovných nomádů, kteří se pohybují po ostrově za pomocí svých sněžných pštrosů. Uvězněni ve vesnici Valsembor, musejí společně hledat cestu z ostrova a zároveň se vypořádat s nepřáteli a neočekávanými překážkami, které se jim staví do cesty. A to jsme se ještě nezmínilo o Katině minulosti, která se pomaličku začíná ozývat..

Nová generace adventur přichází se Syberií 3, která vás vezme na cestu za dobrodružstvím v úchvatném tajuplném universu plném života, který byl plně vymodelován ve 3D a je jen na vás, abyste prozkoumali ta nejmalebnější zákoutí. Ponořte se tedy do světa, obývaného zajímavými postavami a objevíte zážitek, který pochází z úžasné imaginace Benoita Sokala.

Co nás čeká?

Zcela nový příběh, zcela odlišný od prvních dvou her série.

Příběh, který vás vtáhne - to vše v úchvatných uměleckých kulisách z dílny Benoita Sokala.

Originální soundtrack od Inona Zura (Fallout, Dragon Age, Prince of Persia a další)

Originální 3D puzzly v reálném čase a další záhady.


---

Sdílejte na facebooku a získejte 4 benefit bodů.
Podobné produkty
---