Warhammer 40 000 Eternal Crusade
---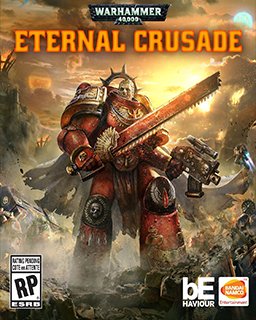 Sleva až 77%
více
Ke každému nákupu


další vybraná

hra za 29,-
---
Steam
Produkt je určen pro platformu Steam
Skladem - Doručení ihned
Dodáme ihned po přijetí platby.
Anglická lokalizace
Produkt je dostupný v anglické lokalizaci, neobsahuje češtinu.
Digitální produkt
Produkt je doručen elektronicky, nejedná se o krabicovou verzi.
Sleva 76 %
U tohoto produktu ušetříte až 76 % oproti běžné ceně.
3 benefit body
Pomocí benefit bodů získáte slevu na další nákupy
---
Vůbec poprvé se můžete připojit ke své oblíbené frakci v těch nejdrsnějších a nejautentičtějších bojích Warhammer 40,000, co se kdy objevily v akční hře!

Vyberte si jednu z frakcí 41. milénia a bojujte o ovládnutí světa, který se neustále nachází ve válečném stavu. Probojujte se přes celou planetu, získejte vítezství v masivních bitvách, zaberte nová území a získejte právo upravovat a vylepšovat své postavy. K dispozici máte propracovaný systém ve stylu Warhammeru 40,000.

Zapojte se do masivních bitev

Zúčastněte se obrovských vojenských kampaní mezi 4 frakcemi o dobytí světa. Vrhněte se do měnících se předních linií a rozdrťte své nepřátele. Můžete bojovat "ručně", ve vzduchu díky jump packu anebo zpoza kulometné věže tanku Pradator. Bojujte ve Věčném tažení – od řinčení dvou chainswordů až po skutečně epická válečná tažení.

Vaše frakce je odteďka vaší rodinou

Vítězství nemůže dosáhnout bojovník sám. Ať už hrajete PvE nebo PvP, váš tým musí v tažení za vítězstvím spolupracovat, jinak nebudete mít šanci překonat neustálý odpor. Čelte smrti bok po boku se svými bratry při obraně pevnosti nebo se společně ponořte do podsvětí a bojujte s mimozemskými hordami tyranidů.

Zvolte si, komu budete loajální, a své zázemí

Vybírejte mezi 20 dílčími frakcemi a získávejte stovky kusů výzbroje a výstroje, které vycházejí z 29leté tradice Warhammeru 40,000. Vytvořte si dokonalého bojovníka.

Warhammer 40,000: Eternal Crusade najdete na steamu jako free to play, tedy zdarma, zakoupením tohoto produktu dostanete 2 dlc: Weapons and Armours Pack DLC ( obsahuje zbraně pro předobjednávky ) a Legacy DLC ( 20 000 herní měny )


---

Sdílejte na facebooku a získejte 4 benefit bodů.
Podobné produkty
---