StarCraft 2 Nova Covert Ops bundle + Commander Abathur
---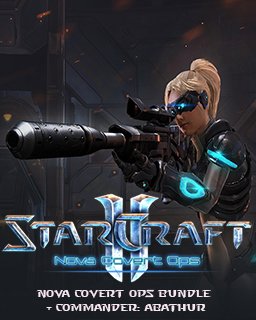 ---
Nova Covert Ops
Jedná se o DLC pack ke strategii StarCraft II. Tento pack obsahuje 3 single-player mission packy, poslední bude vydána ke konci roku 2016. Každý mission pack obsahuje 3 samostatné mise a hráč v nich hraje za jednoho z nejlegendárnějších GHOSTů terranů a to za November Annabellu Terru, známou však všem jako Nova!
Ve hře budete bojovat proti nové frakci, která se snaží zamíchat už tak chaoticky rozdanými kartami v sektoru Koprulu – Defenders of Man. Kromě toho budete také v rámci příběhu odhalovat vzpomínky Novy na její dětství a život před tím, než se stala členkou elitní skupin GHOST. Mission Pack vám také nabídne úpravu vybavení a schopností vašich jednotek, čímž vám přinese další strategické možnosti.
Commander: Abathur
Nový commander do vaší armády, Abathur je mistr v manipulaci DNA Zergů a přináší vám tak nové smrtící možnosti, jak zničit vaše nepřátele. Sbírejte ostatky svých nepřátel a použijte je k vylepšení vašich vlastních jednotek a také k výrobě smrtících toxických pastí. S Abathurem rovněž dostanete možnost vypustit na své nepřátele monstrozity nejtvrdšího ražení, jako je Brutalisk, Leviathan nebo Guardian.
Celý tento balíček obsahuje:
Nova Covert Ops Mission bundle:
Nova Covert Ops Mission pack 1
Nova Covert Ops Mission pack 2
Nova Covert Ops Mission pack 3
Commander: Abathur
Zakoupením získáte 20€ kredit pro Battle.net, které mohou být použity pro nákup tohoto předmětu.
---

Sdílejte na facebooku a získejte 4 benefit bodů.
Podobné produkty
---