---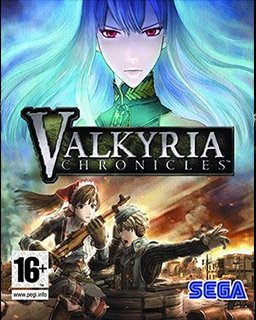 Sleva až 77%
více
Ke každému nákupu


další vybraná

hra za 29,-
---
Steam
Produkt je určen pro platformu Steam
Skladem - Doručení ihned
Dodáme ihned po přijetí platby.
Anglická lokalizace
Produkt je dostupný v anglické lokalizaci, neobsahuje češtinu.
Digitální produkt
Produkt je doručen elektronicky, nejedná se o krabicovou verzi.
Sleva 53 %
U tohoto produktu ušetříte až 53 % oproti běžné ceně.
3 benefit body
Pomocí benefit bodů získáte slevu na další nákupy
---
Tato digitální verze pro PC přichází navíc se všemi dříve vydanými DLC: Hard EX Mode (těžší verze samostatných misí) Edy's Mission "Enter the Edy Detachment" (vedlejší kampaň) Selveria's Mission "Behind Her Blue Flame" (vedlejší kampaň) Challenge of the Edy Detachment (šest výzev) Vysoce hodnocené RPG/strategie Valkyria Chronicles nyní k dispozici i na PC! Valkyria Chronicles, zasazená do období připomínajícího 30. léta 20. století, zobrazuje Evropu rozdělenou na dvě části a ovládanou dvěma mocnostmi: Říší a Federací. Říše se rozhodla zaútočit na malou neutrální zemi zvanou Gallia, nacházející se přesně uprostřed mezi oběma velmocemi, aby získala neocenitelnou přírodní surovinu. Uprostřed tohoto boje se hrdina jménem Welkin a jeho věrní vojáci ze 7. roty Federace snaží bojovat s invazí, zatímco Říše prahne po sjednocení kontinentu pod její vládu. Běhen následné války zjišťuje Federace, že Říše získala tajnou zbraň známou jako Valkyria - pradávnou rasu se speciálními schopnostmi, o které se myslelo, že existuje jen v legendách. Tento objev znamená, že šance Federace na zvrácení průběhu války a naděje na lepší budoucnost visí na vlásku. Grafický engine CANVAS: Unikátní engine, který vytváří dechberoucí obraz vypadající jako by se hýbala malba vodovkami. Systém taktických bitev BLiTZ: Vyzkoušejte si strategické manévry jednotek v kombinaci s konvenčním RPG, to všechno poskládané na plynulé akci dosažené ovládáním každého vojáka a tanku v bitvě v reálném čase. Epický příběh: Hráči se budou moct ponořit do epického boje o svobodu, kde osud světa leží v rukách Welkina a členů 7. roty. Úpravy: Přes 100 upravitelných postav dovoluje hráči vytvořit si různé roty pro nasazení v různých bitvách. Nádherně renderovaná bojiště: Hráči prozkoumají 30 různých prostředí a budou moct využít unikátní vlastnosti terénu k získání výhod v bitvě.
---

Sdílejte na facebooku a získejte 4 benefit bodů.
Podobné produkty
---