LEGO Indiana Jones The Original Adventures
---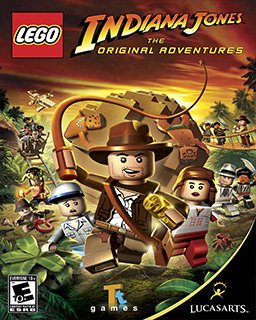 K nákupu nad 1000Kč
hra za 1Kč
Ježíšek
Jim
více
Steam
Produkt je určen pro platformu Steam
Skladem - Doručení ihned
Dodáme ihned po přijetí platby.
Anglická lokalizace
Produkt je dostupný v anglické lokalizaci, neobsahuje češtinu.
Digitální produkt
Produkt je doručen elektronicky, nejedná se o krabicovou verzi.
Sleva 63 %
U tohoto produktu ušetříte až 63 % oproti běžné ceně.
2 benefit body
Pomocí benefit bodů získáte slevu na další nákupy
---
LEGO Indiana Jones: The Original Adventures spojuje zábavu a kreativitu LEGA se schopnosti a odvážnou non-stop akcí, kterou znají všichni fanoušci Indiany Jonese ze třech původních filmových dobrodružství (Indiana Jones a Dobyvatelé ztracené archy, Indiana Jones a Chrám zkázy a Indiana Jones a Poslední křížová výprava). Vydejte se tedy spolu s LEGO Dr. Jonesem do džunglí Jižní Ameriky i na vrcholky indických hor. Fanoušci mohou stavět, bojovat a hledat svou cestu za pomoci oblíbených filmových momentů, od Indyho spuštění se mezi hady po úprk před valícími se balvany.

Samozřejmě se bude tento archeolog – dobrodruh ohánět svým bičem ve všech klasických okamžicích s pomocí mnoha známých postav, jako jsou Marion Ravenwood nebo Kraťas. Hráči mohou také kombinovat části těl více než 60 hratelných postav a vytvořit nové hrdiny přesně podle svých přestav.

Hra nabízí:

Oblíbený hrdina v nezaměnitelném klobouku se vrací na filmové plátno v novém snímku Indiana Jones a Království křišťálové lebky. Oslavte tento velkolepý návrat vzpomínkami na jeho předchozí filmová dobrodružství spolu s LEGO Indiana Jones.

The Original Adventure obsahuje nezaměnitelný a dobře známý humor klasického Indiana Jonese.

Použijte Indyho bič jako multifunkční útočnou zbraň, prostředek k odzbrojení protivníka, pomocníka při cestě přes alternativní cesty nebo při aktivování různých pák, komunikujte pomocí něho se světem LEGO objektů a puzzlí.

V LEGO Indy jsou postavy poprvé zasazeny do svého prostředí, mohou plavat, šplhat, slézat skalní lišty a vyzvednout a posunout objekty.

Používejte různé zbraně z okolí v boji proti nepřátelům (např. židle, zbraně, meče, láhve).

Odemkněte více než 60 hratelných postav, včetně ničemů i Indyho pomocníků (Marion Ravenwood, Kraťas, Rene Belloq, Willie Scott, Marcus Brody, Jones senior a Mola Ram).

Vytvořte jedinečné hratelné charaktery, jako je Sallah Scott nebo Mola Round, smícháním a přiřazením LEGO částí těla ostatních hratelných postav.

Objevujte planetu a řešte hádanky, které podporují kreativní myšlení, s využitím týmové práce a unikátních stavitelských situací možných pouze v LEGO světě.

Kooperativní hraní hry nabádá rodiče, aby se podělili o dědictví Indiana Jonese se svými dětmi zábavným a humorným způsobem
---

Sdílejte na facebooku a získejte 4 benefit bodů.
Podobné produkty
---