Dishonored The Knife of Dunwall
---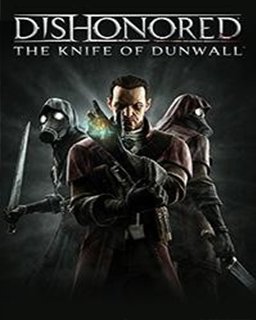 Vše za 29Kč
více
Dárek ke každému
nákupu - sleva až 80%
---
Steam
Produkt je určen pro platformu Steam
Skladem - Doručení ihned
Dodáme ihned po přijetí platby.
Česká lokalizace
Produkt obsahuje také český dabing nebo titulky.
Digitální produkt
Produkt je doručen elektronicky, nejedná se o krabicovou verzi.
Sleva 26 %
U tohoto produktu ušetříte až 26 % oproti běžné ceně.
2 benefit body
Pomocí benefit bodů získáte slevu na další nákupy
---
Pro aktivaci tohoto obsahu, je zapotřebí vlastnit základní hru v CZ jazyce (RHCP verze). V případě zájmu o toto rozšíření pro hru v angličtině, nás prosím kontaktujte.
V Dishonored: The Knife of Dunwall převezmete roli Dauda, legendárního zabijáka, který zabil císařovnu. Tento druhý obsahový balíček pro oceňovanou akční hru z vlastního pohledu od Arkane Studios vám přináší nový pohled na Dauda, jeho zbraně, nástroje, spojence a nadpřirozené schopnosti.
Po tom, co jste zavraždili císařovnu a navždy změnili osud Dunwallu, vydali jste se na cestu za vykoupením. Outsider vám ukázal klíč k vašemu očištění, ale kdo nebo co je Delilah? Společně s Velrybáři, vaší loajální skupinou nájemných zabijáků, vás vaše pátrání zavede do nikdy před tím nenavštívených částí Dunwallu, kde budete čelit novým strašlivým nepřátelům. Využijte unikátní arzenál, který rozšiřuje dynamický bojový, pohybový a plížící systém. V boji o udržení si posledních zbytků vaší lidskosti, bude každá vaše volba určovat váš osud.
---

Sdílejte na facebooku a získejte 4 benefit bodů.
Podobné produkty
---