Starcraft 2 Wings of Liberty
PRO ČLENY KEY4YOU+
Sleva a další výhody
349 Kč
---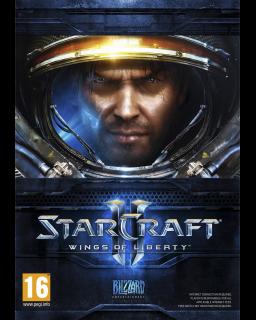 Sleva až 77%
více
Ke každému nákupu


další vybraná

hra za 29,-
---
Battle-Net
Produkt je určen pro platformu Battle-Net
Skladem - doručení 24H
Produkt vám bude doručen nejpozději do 24H. Běžně do 2H.
Anglická lokalizace
Produkt je dostupný v anglické lokalizaci, neobsahuje češtinu.
Digitální produkt
Produkt je doručen elektronicky, nejedná se o krabicovou verzi.
Sleva 60 %
U tohoto produktu ušetříte až 60 % oproti běžné ceně.
4 benefit body
Pomocí benefit bodů získáte slevu na další nákupy
---
Pc hra Starcraft II pokračuje v epickém příběhu Protossů, Teranů a Zergů. Tyto tři odlišné a mocné rasy se ještě jednou střetnou ve svižné real-time strategii vycházející z legendárního prvního dílu pc hry Starcraft.
Legie veteránů, vylepšené a zcela nové druhy jednotek budou bojovat napříč celou galaxií a snažit se vyhubit jeden druh druhý. Za koho budete bojovat vy? Druhý díl navazuje přesně na konec datadisku prvního dílu Starcraft: Brood War skončil, představí Starcraft II, v chytlavém sci-fi příběhu plného dobrodružství a intrik, nové hrdiny i důvěrně známé tváře. Navíc Blizzard znovu nabízí bezpříkladné online hraní skrz Battle.net s několika vylepšeními a novými možnostmi, které dělají z pc hry Starcraft II ultimátní sci-fi real-time strategii.
Hlavní rysy pc hry StarCraft II: Wings of Liberty
Svižná, energická, dobře vybalancovaná real-time strategie
Tři naprosto odlišné rasy: Protossové, Terani a Zergové
Nové jednotky a herní mechanismy dále odlišující každou rasu
Průkopnická kampaň pro jednoho hráče
Pulzující nový 3D engine s podporou oslnivých vizuálních efektů a obrovských skupin jednotek a armád
Plná podpora hry více hráčů skrz Battle.net s novými vylepšeními a pomůckami při vytváření soubojů
Kompletní nástroje pro tvorbu map a skriptování dají hráčům neuvěřitelnou svobodu v upravování a přizpůsobování herních zážitků
Pc hra StarCraft II: Wings of Liberty není multiplatformní a nebude vydána pro herní konzole Microsoft XBOX 360 a Sony PlayStation 3 ani Nintendo Wii
Doporučený věk pro dobývání vesmíru při hraní pc hry StarCraft II: Wings of Liberty je 16 a více let
---

Sdílejte na facebooku a získejte 4 benefit bodů.
Podobné produkty
---