---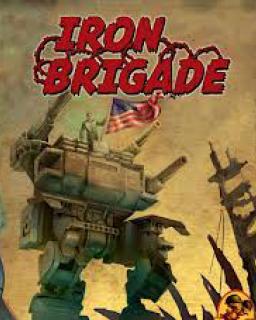 Sleva až 77%
více
Ke každému nákupu


další vybraná

hra za 29,-
---
Steam Gift
Produkt je určen pro platformu Steam Gift
Skladem - Doručení ihned
Dodáme ihned po přijetí platby.
Anglická lokalizace
Produkt je dostupný v anglické lokalizaci, neobsahuje češtinu.
Digitální produkt
Produkt je doručen elektronicky, nejedná se o krabicovou verzi.
Sleva 47 %
U tohoto produktu ušetříte až 47 % oproti běžné ceně.
2 benefit body
Pomocí benefit bodů získáte slevu na další nákupy
---
Iron Brigade je kombinací tower defense hry s 3rd person střílečkou, původně známá pod jménem Trenched. Hra se odehrává v alternativní realitě po skončení 1. světové války. Dva váleční veteránové Frank Woodruff a Vladimir Farnsworth přežijí neznámé smrtící rádiové vysílaní a přesně dle rčení "Co tě nezabije, to tě posílí.", jim je věnována superinteligence a znalost pokročilých technologii. Každý se však nově nabytých schopností ujme po svém.

Woodruff, jenž přišel ve válce o nohy, díky nim sestaví obrovské chodicí mechy, které umožní podobně zraněným vojákum opět chodit a bojovat. Jejich jednotka nese název "The Mobile Trench Brigade". Farnsworth oproti tomu vymyslí něco úplně jiného, Monovision.

Iron Brigade je kombináciou tower defense hry s 3rd person strieľačkou , pôvodne známa pod menom Trenched . Hra sa odohráva v alternatívnej realite po skončení 1. svetovej vojny . Dvaja vojnoví veteránov Frank Woodruff a Vladimir Farnsworth prežijú neznáme smrtiace rádiové vysielanie a presne podľa porekadla " Čo ťa nezabije , to ťa posilní . " , Im je venovaná superinteligence a znalosť pokročilých technológii . Každý sa však novo nadobudnutých schopností ujme po svojom .

Woodruff , ktorý prišiel vo vojne o nohy , vďaka nim zostaví obrovské chodiace machy , ktoré umožnia podobne zraneným vojakom opäť chodiť a bojovať . Ich jednotka nesie názov " The Mobile Trench Brigade " . Farnsworth oproti tomu vymyslí niečo úplne iného , Monovision .

Televíziu ktorý všetkým ľuďom umožní sledovať udalosti z celého sveta vo svojich obývačkách . Svojim objavom je tak posadnutý , že sa rozhodne dobyť celý svet a stvorí tzv Tubes , robotické chodiace verzie Monovision . Svet je tak v ohrození a Frankova mobilné priekopová brigáda sa postaví do protiútoku . V hre sa ujmete úlohy jedného z machov zvaných " trench " a musíte ochrániť svoju základňu pred nepriateľskými vlnami monovíziu . S machom sa môžete voľne pohybovať po bojisku , alebo sa opevněnovat v priekopách . Za získané skúsenosti z bitiek možno svojho mecha upravovať stovkami rôznych spôsobov , nakupovať nové zbrane , brnenia a ďalšie prvky . Neskôr hráč tiež môže na bojové pole umiestňovať rôzne obranná , alebo podporná stanovište . Hra ponúka i co-op multiplayer až pre štyroch hráčov .


---

Sdílejte na facebooku a získejte 4 benefit bodů.
Podobné produkty
---