Call Of Duty Black Ops 2 Uprising
PRO ČLENY KEY4YOU+
Sleva a další výhody
15,16 €
---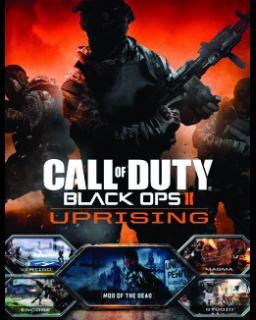 Sleva až 77%
více
Ke každému nákupu


další vybraná

hra za 29,-
---
Steam Gift
Produkt je určen pro platformu Steam Gift
Skladem - Doručení ihned
Dodáme ihned po přijetí platby.
Anglická lokalizace
Produkt je dostupný v anglické lokalizaci, neobsahuje češtinu.
Digitální produkt
Produkt je doručen elektronicky, nejedná se o krabicovou verzi.
Sleva 11 %
U tohoto produktu ušetříte až 11 % oproti běžné ceně.
4 benefit body
Pomocí benefit bodů získáte slevu na další nákupy
---
***Lze aktivovat na jakoukoliv verzi základní verzi***

DLC: Uprising. Druhý DLC balíček pro hru Call of Duty: Black Ops 2, s názvem Uprising, přináší další 4 multiplayerové mapy a multiplayerovou survival zombie klasiku "Mod of the dead" z prostředí Alcatrazu. 4 nové mapy jsou následující: Magma nabízí prostředí moderní japonské vesnice na úpatí aktivní sopky. Čeká vás boj s běsnícím živlem a potoky lávy. Encore (přídavek) - po skončení londýnského hudebního festivalu zazní z pódia jiné nástroje a stejná odezva přijde zpět i z hlediště. Vertigo se odehrává na střeše indického mrakodrapu. Hráči svedou urputné boje o ovládnutí přistávací plochy. Studio je klasická střelnice v kulisách filmových ateliérů. Těšte se na připravené zajímavé filmové scény.


---

Sdílejte na facebooku a získejte 4 benefit bodů.
Podobné produkty
---