Dark Souls 3 The Fire Fades Edition
---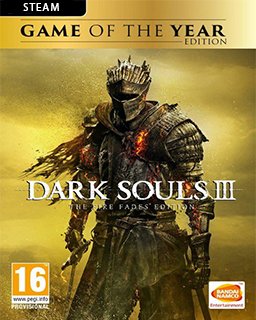 Výrazná sleva na vybrané
produkty ke každému nákupu!
více
Steam
Produkt je určen pro platformu Steam
Skladem - doručení 24H
Produkt vám bude doručen nejpozději do 24H. Běžně do 2H.
Anglická lokalizace
Produkt je dostupný v anglické lokalizaci, neobsahuje češtinu.
Digitální produkt
Produkt je doručen elektronicky, nejedná se o krabicovou verzi.
Sleva 53 %
U tohoto produktu ušetříte až 53 % oproti běžné ceně.
10 benefit bodů
Pomocí benefit bodů získáte slevu na další nákupy
---
Vychutnejte si komplexní dobrodružství třetího a závěrečného dílu Dark Souls díky Fire Fades Edici, která kromě základní hry nabídne i oba vydané dodatky, a to Ashes of Ariandel a The Ringed City.

Jakmile všechny ohně vyhasnou a svět se promění v pustinu posetou ruinami, přichází studio FROMSOFTWARE v čele s výkonným ředitelem jménem Hidetaka Miyazaki s pokračováním věhlasně známé a žánrově určující série Dark Souls. Přichází Dark Souls III. Čeká Vás temné a pochmurné dobrodružství zasazené do rozsáhlého pokřiveného světa plného příšer, zákeřných pastí a skrytých tajemství.
---

Sdílejte na facebooku a získejte 4 benefit bodů.
Podobné produkty
---