---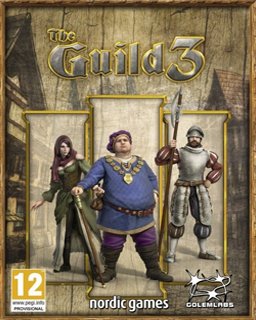 Sleva až 77%
více
Ke každému nákupu


další vybraná

hra za 29,-
---
Steam
Produkt je určen pro platformu Steam
Předobjednávka
Doručení nejpozději v den vydání
Anglická lokalizace
Produkt je dostupný v anglické lokalizaci, neobsahuje češtinu.
Digitální produkt
Produkt je doručen elektronicky, nejedná se o krabicovou verzi.
Sleva 13 %
U tohoto produktu ušetříte až 13 % oproti běžné ceně.
10 benefit bodů
Pomocí benefit bodů získáte slevu na další nákupy
---
Co říkáte na budování rodu, politické moci, bohatství a ovládnutí celého města na začátku 15. století?

Jestli říkáte ano, tak tu máme pro vás pokračování velice známé herní série The Guild. Třetí díl této série opět nabízí vše, co bylo v minulých dílech natolik unikátní a dokonalé.

Vytvořte si vlastní rod, který se bude postupně rozrůstat a hlavně nabývat politické a ekonomické moci ve svém městě a v okolí. Zvolte si jakou profesi chcete vykonávat, zda budete hospodský, zlatník, zemědělec, lupič či budete tajemný alchymista. Zvolte si, jakékoliv povolání, které se vám bude nejvíce líbit a můžete začít podnikat a svůj obchod rozvíjet dle svých potřeb. Nezapomeňte si najít partnera a založit s ním rodinu, jinak hrozí, že váš rod vymře a to není ta pravá cesta za úspěchem.

The Guild 3 nabízí opět budování svého podniků a postupně dalších podniků, které budete moci přímo či pomocí automatickému správci a postupně se zaměřit na politickou stránku hry. Opět se dočkáte intrikaření, zastrašování.

Předpokládané datum vydání: 2017
---

Sdílejte na facebooku a získejte 4 benefit bodů.
Podobné produkty
---