---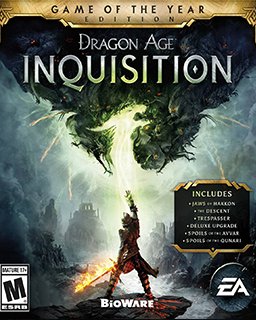 Vše za 29Kč
více
Dárek ke každému
nákupu - sleva až 80%
---
Origin
Produkt je určen pro platformu Origin
Skladem - Doručení ihned
Dodáme ihned po přijetí platby.
Anglická lokalizace
Produkt je dostupný v anglické lokalizaci, neobsahuje češtinu.
Digitální produkt
Produkt je doručen elektronicky, nejedná se o krabicovou verzi.
Sleva 38 %
U tohoto produktu ušetříte až 38 % oproti běžné ceně.
7 benefit bodů
Pomocí benefit bodů získáte slevu na další nákupy
---
Pokud si vzpomínáte, tak jsme svět Dragon Age před pár lety opouštěli v tu nejhorší možnou chvíli. Kataklyzmatické události uvrhly zemi Thedas do naprostého chaosu. Draci zatemnili oblohu a vrhli stín hrůzy na kdysi klidné království. Napjaté vztahy povolily. Mágové byli uvrženi do totální války proti despotickým templářům. Národy povstaly proti sobě a ke všemu došlo k protržení Závoje. Je tak pouze na nás, abychom obnovili pořádek. Pomůžete Inkvizici a dopadnete agenty chaosu? Nebo plánujete něco jiného? Vaše rozhodnutí navždy změní Dragon Age!

Skalní fanoušci se mohou těšit na návrat starých známých postav z předchozích dílů. Tvůrci zatím odtajnili divokou čarodějku Morrigan nebo mistra samostřílu Varrica Tethrase. Navíc mnohem hlubší a komplikovanější charaktery, společně s vyvíjejícím se světem, umožní dohrání hry mnoha různými způsoby. Podle vývojářů na nás čeká více než 40 různých konců.

Celá série už získala více jak 80 ocenění kritiků z celého světa a dosud si na konto připsala více než 8 miliónů prodaných kopií. Od vydání prvního titulu Dragon Age: Prameny v roce 2009 společnost spolupracovala také na řadě knih, komiksů, animovaném filmu a sběratelských předmětech. Jak je u BioWare zvykem, vytváří kolem svých her obrovské universum, které baví lidi po celém světě. Takže se připravte, protože v pořadí třetí pokračování přistane na pultech obchodů se vší noblesou a podle ohlasů to bude síla!

Rozsáhlý svět, kde bude mnoho rozdílných regionů. Prozkoumávání světa se prý stane posedlostí. Starý dobrý způsob psychologického RPG - povedeme skupinu rozdílných dobrodruhů do boje, kdy každé rozhodnutí bude otevírat nové a nové možnosti. Všechna rozhodnutí budou mít vliv na říši Thedas. Za chyby budou platit nejen postavy, ale i království samotné. Běžné budou i proměny země a přírody.Těšit se také můžeme na hlubší a komplikovanější charaktery.

Mnoho fanoušků zklamal druhý díl tím, že nabídl předdefinovanou postavu. Od tohoto modelu tvůrci ustupují, takže od teď je práce s tvorbou postavy pouze na vás.

Přichází fantastické dobrodružství, kde budeme muset zastavit anarchistické kataklyzma a blížící se věk draků!

Obsah balení:

- základní hra Dragon Age 3: Inquisition

- příběhová DLC rozšíření Jaws of Hakkon, The Descent a Trespasser

- všechna další vydaná DLC pro hru
---

Sdílejte na facebooku a získejte 4 benefit bodů.
Podobné produkty
---