---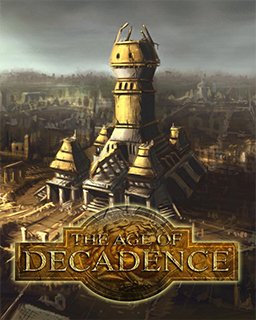 Vše za 29Kč
více
Dárek ke každému
nákupu - sleva až 80%
---
Steam Gift
Produkt je určen pro platformu Steam Gift
Skladem - Doručení ihned
Dodáme ihned po přijetí platby.
Anglická lokalizace
Produkt je dostupný v anglické lokalizaci, neobsahuje češtinu.
Digitální produkt
Produkt je doručen elektronicky, nejedná se o krabicovou verzi.
Sleva 24 %
U tohoto produktu ušetříte až 24 % oproti běžné ceně.
4 benefit body
Pomocí benefit bodů získáte slevu na další nákupy
---
The Age of Decadence je isometrické tahové RPG z fantasy světa, ve kterém proběhla apokalypsa, a jehož trosky teď má jako kulisy pro své boje několik mocných. Hráč do něj nevstupuje jako vyvolený s úkolem zachránit svět, ale i jako někdo, kdo se snaží zorientovat v sítích různých zájmů a názorů a přežít mezi střety sedmi frakcí. Hra klade obrovský důraz na volby a jejich následky a tím pádem i na znovuhratelnost. Je zde nepřeberné množství možností pro podvody, zradu a vrážení nožů do zad a to nejen ze strany hráče, ale i NPC. V žádné jiné hře proti vám ještě nikdy nestálo tolik lhářů a šikovných manipulátorů, jako tady.



Na výběr je 23 skillů, z nichž jen menšina je bojových. Každý bod se počítá a každý bod investovaný jinak vám při příštím průchodu může odhalit jiná tajemství a souvislosti. Tahové souboje jsou obtížné, ale férové. Hra na vás nehrne hordy nepřátel. Každý střet zde má smysl, je pro vás výzvou a je z něj poznat, že teď půjde o život.
---

Sdílejte na facebooku a získejte 4 benefit bodů.
Podobné produkty
---