Battlefield Hardline Premium
---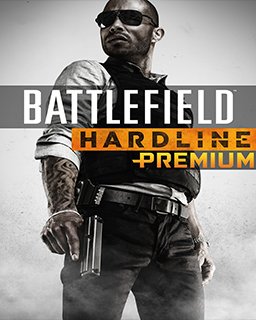 Sleva až 77%
více
Ke každému nákupu


další vybraná

hra za 29,-
---
Origin
Produkt je určen pro platformu Origin
Skladem - Doručení ihned
Dodáme ihned po přijetí platby.
Česká lokalizace
Produkt obsahuje také český dabing nebo titulky.
Digitální produkt
Produkt je doručen elektronicky, nejedná se o krabicovou verzi.
Sleva 41 %
U tohoto produktu ušetříte až 41 % oproti běžné ceně.
8 benefit bodů
Pomocí benefit bodů získáte slevu na další nákupy
---
Jako členové programu Battlefield Hardline Premium se můžete těšit na čtyři speciality, které obohatí váš zážitek z hraní. Čtyři speciality:

•Masky – nové masky s jedinečnými výhodami při hraní související s jejich podobou

•Pracovní stůl – hráči si zde mohou vizuálně upravovat zbraně a sledovat statistiky zabití

•Soutěžní hraní – podpora soutěžního hraní v Battlefieldu Hardline prostřednictvím turnajů a žebříčků

•Legendární status – zajišťuje opakovatelnost celého systému postupu

Čtyři herní rozšíření

Battlefield Hardline Premium navíc nabídne fanouškům čtyři digitální rozšíření s novými mapami, režimy, technikou a herním obsahem. Pamatujte: stanete-li se členy programu Premium, získáte k těmto rozšířením dvoutýdenní přednostní přístup*. Tohle pro vás chystáme:

•Battlefield Hardline: Zločin – Na hráče čekají nové mapy se zničitelným prostředím, na nichž bude docházet k mnoha drobným zločinům. Vydobudete si své jméno? Vyjde v létě 2015.

•Battlefield Hardline: Přepadení – Postarejte se o konkurenci a postupujte skrz klíčová místa jako v nějakém akčním bijáku. Vyjde v létě 2015.

•Battlefield Hardline: Únik – Zběsilé honičky, díky kterým se hráči ještě hlouběji ponoří do loupeží. Vyjde na podzim 2015.

•Battlefield Hardline: Podraz – Operace byla infiltrována nepřítelem a hráči tak budou muset zjistit, komu můžou věřit. Vyjde na začátku roku 2016.

Exkluzivní perky pro členy programu

To ještě není vše. Rozhodnete-li se stát se členem programu Battlefield Hardline Premium, máme pro vás připraveny další perky. A co říkáte na tohle?

•Dvoutýdenní přednostní přístup ke všem rozšířením

•12 zlatých battlepacků

•Nové možnosti úprav včetně zbraňových kamufláží, vzhledů a dalších exkluzivních herních předmětů jen pro členy programu Battlefield Hardline Premium

•Přístup k akcím s dvojnásobnými ZK, misím a dalším exkluzivním událostem

•Přednost při čekání ke vstupu na server

To by šlo, ne? Pokud se hodláte vydat do světa policistů a zločinců ve hře Battlefield Hardline, pořiďte si Premium a získejte celou řadu bonusů.



Je zapotřebí mít základní hru Battlefield Hardline pro využití Premia.


---

Sdílejte na facebooku a získejte 4 benefit bodů.
Podobné produkty
---