World of Warcraft Grinning Reaver
PRO ČLENY KEY4YOU+
Sleva a další výhody
25,83 €
---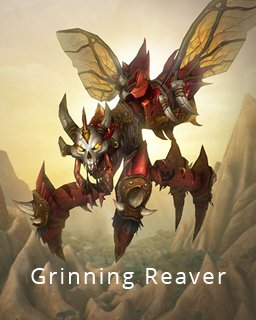 ---
Tento produkt si můžete pořídit pomocí 1 či více kódů Battle.net balance ( v naší nabídce zde: Battle.net balance ) na stránkách Battle.net obchodu
Vždy se smějící terror!
Přijměte své vnitřní zlo, pohybujte se po obloze a cestujte po celé zemi na tomto prvotním zázraku. A když to na vás přijde, nechte vaši vlastní tvář zrcadlit zlověstný úsměv plenitele. Protože si to zasloužíte!
Připraven k letu!
Grinning Reaver bude Váš okamžitě po dokončení transakce!
Pro každého jeden!
Jakmile je tato funkce aktivována Grinning Reaver bude aplikován na všechny současné i budoucí postavy na jednom Battle.net účtu, každá postava ho poté najde ve svém seznamu petů a mountů!
Automatické vylepšení!
Grinning Reaver bude automaticky upraven podle Vaší nejrychlejší jezdecké dovednosti. Pokud nemáte dostatečně vysokou úroveň na létání, bude stále použitelný jako pozemní mount!
---

Sdílejte na facebooku a získejte 4 benefit bodů.
Podobné produkty
---